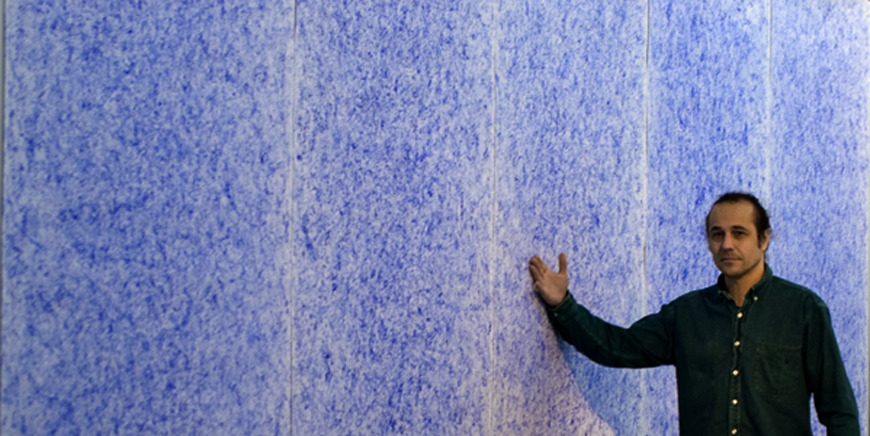 "I make spontaneously generated color fields with integrated conceptual imagery in recent work. I think of them as functional models of perception, intuition, abstraction and the ecstatic experience."
News
Here is a video showing my five panel series "Night Visions In Phosphene Hues" which was unveiled at Winter Open Studios 2012. This is a very sublime work. Read about the background of this work on my blog.
"The Revolving Order Of Immanence" has been installed at Prajna Yoga & Healing Arts in Belmont, CA in the main studio for over a year now. On the aniversary of the opening of the studio I gave a small talk and demonstrated my ecstatic automatism approach to my painting. Here is the video.
On Dec. 11 2010 I gave a taped interview which has been broadcast on Marin Community Televison channel 26. A version has also been posted online at channels.com.
You can also see a video interview my friend Arnaz took of me on Dec. 4. 2010 during open studios. Bret Arenson Winter Open Studios 2010.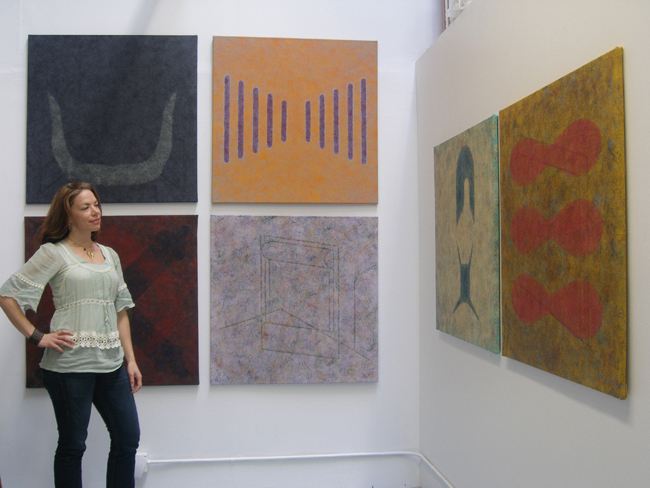 Recent Events
Winter Open Studios: Dec. 1-2, 2012 - Schoonmaker Building, Sausalito, CA
On-Site Installation: WestAmerica Bank: Nov. 2012 - Sausalito, CA
Art Walk: Art Murmur - Nov. 2, 2012 - Oakland, CA
Arts Festival: Art In Nature Festival - Sept. 23, 2012- Oakland, CA
Arts Festival: Sausalito Artists Show - Sept. 1 - 3, 2012 - Sausalito, CA
On-Site Installation: Flow Pilates - Aug. through Oct., 2012, Fairfax, CA
Arts Festival: Sausalito Artists Show - May 26 & 27, 2012 - Sausalito, CA
Spring Open Studios: May 9, 2012 - Schoonmaker Building, Sausalito, CA
Gallery Show: The Elements - Art Works Downtown - Mar. 9 - Apr. 27, 2012 - San Rafael, CA
On-Site Installation: Cafe Arrivederci - Jan. 7 - Feb. 18, 2012 - San Rafael, CA
Winter Open Studios: Dec. 3-4, 2011 - Schoonmaker Building, Sausalito, CA
Arts Festival: Art In Nature Festival - Oct. 2, 2011- Oakland, CA
Arts Festival: Sausalito Artists Show - Sep. 3,4,5, 2011 - Sausalito, CA
Marin Arts Open Studios: May 7,8,14,15, 2011 - Schoonmaker Building, Sausalito, CA
Fundraiser: A Stroke of Spring - May 21, 2011 - Tiburon, CA
On-Site Installation: WestAmerica Bank: April 2011 - Sausalito, CA
Winter Open Studios: Dec. 4-5, 2010 - Schoonmaker Building, Sausalito, CA
Gallery Show: Ways Of Seeing - Marin Arts Gallery - Oct. 8 - Nov. 12, 2010 - San Rafael, CA
Gallery Show: Mosaics - Art Works Downtown - Mar. 4 - Apr. 23, 2010 - San Rafael, CA